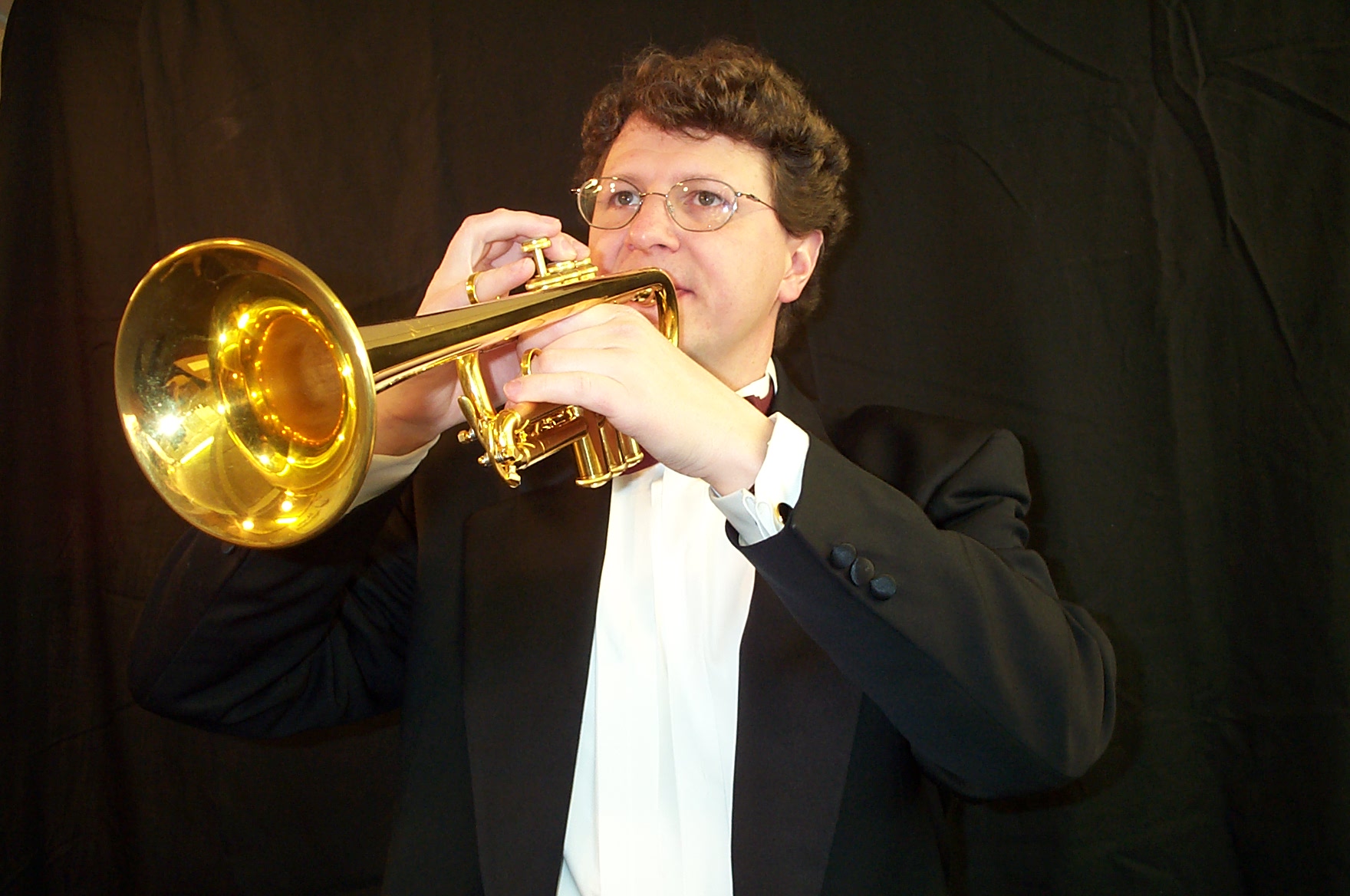 Mark Bacon is The Wedding Trumpeter
Brilliant Classical Trumpet for your Wedding.
Serving brides in USA and Europe since 1983


Mark@WeddingTrumpeter.com
541-257-7321
SHARING JOY
Your wedding day is the most special and beautiful day of your life. It's the ideal occasion for sharing and celebrating your love with your family, friends, and guests. The Wedding Trumpeter heralds a triumphal toast to your marriage, proclaims tones of excitement and grandeur to your future, and sounds sweetness and beauty at your ceremony. The Wedding Trumpeter creates gorgeous music to envelop your guests in feelings of warmth and happiness, and adds luster and beauty to your special day. Why not treat your guests and yourself to a splash of regal splendor?

LEGACY
For over five hundred years, the trumpet has been called upon by the church and royalty to herald the most important ceremonial events. It has sounded joy and festivity at weddings, granted gratitude and reverence on holy days, signaled the march to battle in times of conflict, and proclaimed a noble sentiment to the departed. No other instrument commands more authority. No other instrument defines a ceremony with greater power and majesty. When the Wedding Trumpeter performs at your wedding, everyone will be delighted with the sparkling sonorities of your ceremony.

MUSICAL PLANNING

Classical Music Service
Every well planned wedding is unique in its length, location, readings, floral arrangements, and musical details. Your ceremonial music will have a profound effect on the ambiance you create for your guests. The Wedding Trumpeter offers musical consultation and choreography to suit your specific needs and interests. From warm and glowing arias, to graceful and flowing dances, to powerful and brilliant marches and voluntaries. I perform all the standard selections and am happy to accommodate your special requests. Thoughtful planning of your musical selections will transform your ceremony into an extraordinary event, and a highly personal expression of your tastes. Weaving sound and word together with tastefully tailored interludes, pleasing preludes, and impassioned postludes will bring great joy and harmony to your wedding day celebration.
ARTISTIC EXPRESSION
The musical artistry of:
Mark Bacon
can be sampled on his compact disc, "The Bright Seraphim" Ceremonial Music of Splendor. Also featured is organist/pianist:
Barbara Flocco
and soprano Elisa Doughty. Musical selections by Bach, Mozart, Clarke, Handel, Pachelbel, Purcell, Campra, Mendelssohn and Schubert have been beautifully recorded on the Aeolian-Skinner organ at Phillips Exeter Academy. This special recording will guide you through magnificent music, and lend suggestions for creating a beautiful wedding ceremony.
CONTACT INFORMATION
A complimentary consultation is yours for the asking. I'd be happy to address any questions you have and give you a price quote for my services. For more information, co
ntact Mark The Wedding Trumpeter at:
541-257-7321. Email me here: Mark@WeddingTrumpeter.com

© 1999-2022 by Mark Bacon. All rights reserved.